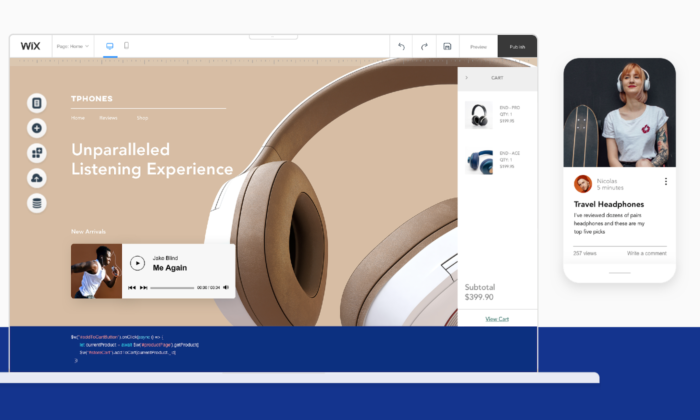 Disclosure: This content is reader-supported, which means if you click on some of our links that we may earn a commission.
Do you want to skip the read and get right to my top pick? The best blogging platform for most people is Wix.
I've been making a good living as a blogger for more than a decade. This is an area of the internet I know really well.
You've got a lot of good options. Some are free and might do the trick. Others are paid and you can do a whole lot more with them.
To help find the best option for your situation, I reviewed the top five blogging platforms on the market today and created a short list of criteria to think about as you search.
By the end of this article, you'll be well on your way to starting your own blog.
#1 – Wix Review — The Best for Launching a Beautiful Blog Right Now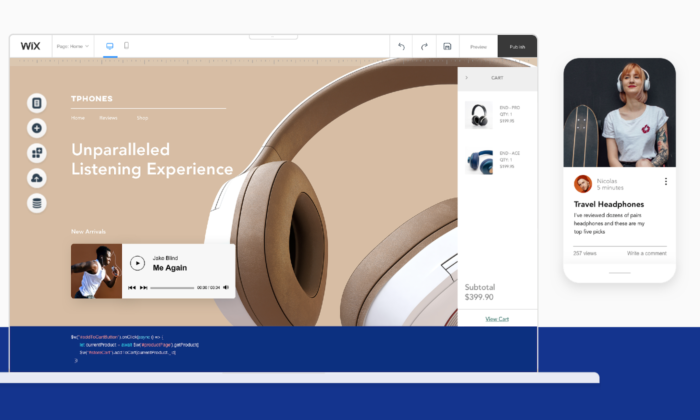 If you are looking for the shortest distance between you and a functional blog, go with Wix.
There are other great options on my list, but nothing is as easy to get started with as Wix.
It's an excellent choice for beginners interested in creating a full-fledged website with a blog included.
Wix is highly template-driven, but there are an astonishing range of options available. You'll be able to find something that fits with your brand. Getting things set up is as simple as using the drag-and-drop editor to design your site—no code necessary.
Alternatively, you can use Wix Artificial Design Intelligence (ADI). Just answer a few questions about who you are and the purpose of your blog, and Wix ADI will create a website for you. I'm not kidding:
And even if you want to design your own site, Wix ADI will help you figure out which layouts work best by letting you preview your content before making a decision.
Everything looks crisp with very little configuration on your end. Your final product is going to make a professional impression, whether visitors are on a laptop or mobile phone.
And if you are an on-the-go person, don't worry. The Wix mobile app lets you design and blog right from your phone.
For the more technically confident, greater customization is possible in Wix, but most users aren't going to need to do more than plug and play.
As one of the best website builders available, Wix is more than capable of supporting your entire site, not just your blog. Set up an online store, book appointments, post jobs, and more.
In terms of growing your audience, Wix comes packed with powerful tools to help you increase your reach and engage meaningfully online:
Industry-leading SEO toolsSocial media toolsVisitor analytics500 professional design templatesPost schedulingEmbed HTML codesCategories and hashtagsAdvanced search capabilitiesCollaboratorsEasy image editing
From site building to outreach, Wix a lot more than just a blogging platform. You can get started today and use Wix free forever.
The pros of a free Wix account are hands-off maintenance, as Wix hosts everything, and access to the world-class site building tools. Your site will have wixsite.com in the web address, and you're limited to 500GB bandwidth, which basically means it only works for small sites without too much traffic.
The other drawback are the Wix ads, which enable the company to offer the free version. If you are running your blog as part of your business, do you really want another company's advertisements?
If you upgrade, Wix removes the ads and gives you a custom domain name free for the first year. Your blog is fully yours, which I think is more than worth it.
Premium Wix plans are broken down into three groups: Websites, Business & eCommerce, and Enterprise.
If you are looking for a straight up blogging platform, the Websites plans will do. Plans start at $14 per month for Combo, which is good for personal use, and range up to $39 per month for the VIP plan, which has a lot more storage space and tools to grow your brand.
Business and ecommerce plans start at $23 per month and allow you to accept payments online. Sell products and services directly from your blog. Even for more complex sites, the Wix set up process will still be very user-friendly.
Wix is an excellent choice for individuals and small businesses trying to get the word out. There's a 100 page limit for Wix websites (excluding blog posts, of course), and site performance may suffer if you start to hit the upper limit.
If this is a concern, I'd just go with WordPress, which can grow as big as you need. That said, Wix offers custom solutions for enterprise clients that start at $500 per month.
For most users, especially those looking to get their blog up and running without any stress or frustration, Wix is fantastic.
Try Wix Premium today free for 14 days, or blog free as long as you like.
#2 – Squarespace Review — The Best Blogging Platform for Visual Appeal
Squarespace is an all-in-one website builder, like Wix. However, it's famous for aesthetically pleasing templates, making it perfect for visual-based businesses like photographers, designers, and artists.
For as great as the your published work looks on Squarespace, it's a relatively effortless platform to use. Plus, it includes web hosting services and a free domain for the first year (if you choose an annual premium plan).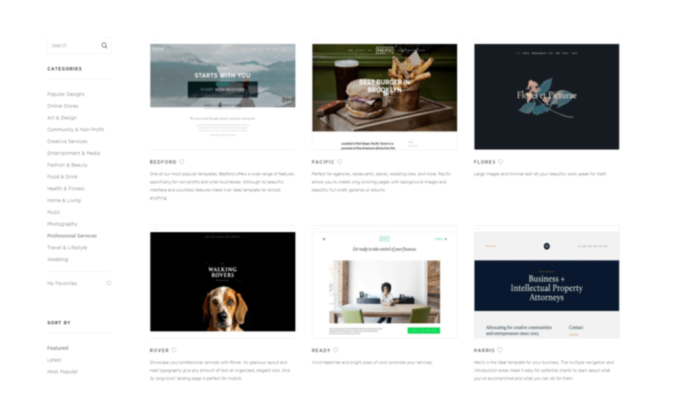 It's perfect for bloggers who want an easy, aesthetic way to share images, videos, and portfolio pieces, along with long-form and short-form blog posts.
And with Squarespace, you create blog posts the same way you create pages.
Once you learn how the drag-and-drop editor works, you know how to use the entire platform. You also get access to powerful blogging features, including:
Free blogging templates to help you get startedFive unique post layouts for your home and archive pagesCategories, tags, and featured postsBuilt-in post schedulerContributor permissionsIn-depth analyticsSEO and social media toolsEmail marketing (additional fees)Expert customer serviceMobile app
Squarespace isn't as customizable as Wix or WordPress.org, but it's perfect for creative bloggers and businesses who need to create captivating content quickly.
Paid plans start at $12 per month and increase depending on the features you need. Try Squarespace for free.
#3 – WordPress Review — The Best Open-Source Blogging platform
WordPress is an open-source blogging platform with complete design flexibility.
It also powers 38% of the entire internet, including the blog you're reading right now, making it the most popular blogging platform on the market.
And the best part? It's free to download and install BUT you will need your own web hosting. For that I recommend Bluehost for WordPress hosting.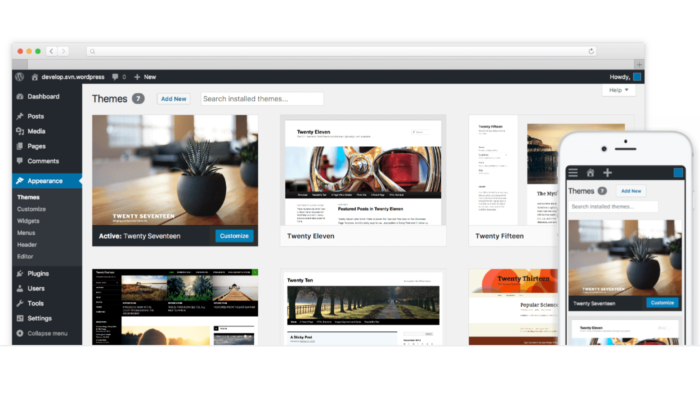 However, you do need web hosting to be able to use it. This usually costs around $3 – $10 per month, so it's the most affordable option on this list.
With that said, it's not as easy as Wix. There are a few more steps to get started, but the extra work is well worth it if you're looking for complete design control and flexibility.
With WordPress.org, you also get:
55,000+ plugins to extend the functionality of your siteThousands of free and premium themesThe Gutenburg block editorAdvanced user roles and permissionsPowerful media managementA massive community of expertsInfinite design control
The best part is that you have 100% control over your website and blog. Plus, you aren't tied down by rules and regulations. You can decide what to display, what you don't reveal, and how you make money.
There are countless ways to get started with WordPress. But I highly recommend starting with Bluehost.
It's the easiest way to get everything you need.
They also include a free domain name for the first year. So, all you have to do is pick a hosting plan, snag your free domain, and use their one-click WordPress installation feature.
#4 – Medium Review — The Best Traditional Blogging Platform
Medium is a platform that helps readers and writers find new ideas, knowledge, and perspectives. It's unique because there are no ads present on the platform.
To date, they have over 120 million readers, making Medium an excellent way to get your content in front of more people. It's great for sharing personal stories, perspectives, and getting your ideas out into the world.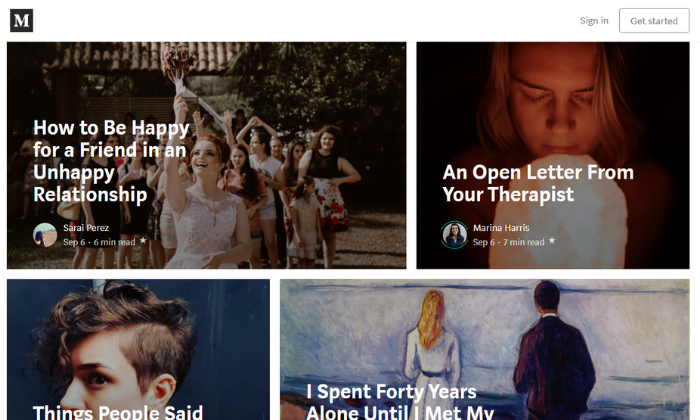 However, it's not a great platform for making money as a blogger.
Medium does have a partner program that rewards writers for the amount of time paying members spend reading their content. Making a decent amount of money this way is going to be tricky.
Another thing: you can't include your own call-to-actions in partner posts. So, you have to choose between making money and growing your email list.
It's still a great product, just not for revenue. I highly recommend treating Medium as an extension of your Wix, Squarespace, or WordPress.org blog.
To get started, you can create a profile or a publication. Publications look more aesthetically pleasing, and you get more organization and display features. With publications, you can also send newsletters to your followers.
Note: if you use Medium as an extension of your blog, make sure you use their import feature to add existing blog posts. This way, you can add content from your blog to Medium without creating duplicate content for SEO purposes.
#5 – Blogger Review – The Best for Personal Blogs
Blogger is one of the original blogging platforms. It's been around since 1999.
It's completely free to use with no paid plans, upsells, or anything like that. And it's incredibly easy to use. This makes it perfect for personal or hobby bloggers looking to share their thoughts and ideas with the world.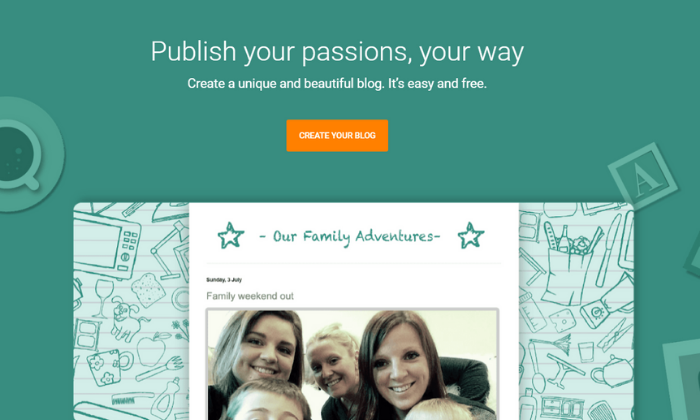 They have several free templates to choose from that govern how your blog looks. However, they're not very customizable.
You can change the colors and the layout of a few things, but that's about it.
The platform focuses solely on blogging, so that's where the majority of their features lie. With Blogger, you get free access to essential features, including:
A free SSL certificate and free domain mappingGoogle integrationsImage storage with Google PhotosIntegrated ad campaignsSimple text editor
And while those features are great, the platform is seriously lacking in other departments, including customization, custom post types, and overall design.
Essentially, it's an old-school blogging platform. It works well for simple blogging, but you can't create a full-fledged website, so I don't recommend it if you want to build a brand and make money blogging.
However, since Google's acquisition in 2003, you can display Google Ads on your blog to make a little extra money on the side.
But, it's not a sustainable or long-term way to make a full-time income with your blog.
What I Looked at to Find the Best Blogging Platform
Choosing a blogging platform is an important decision. And the one you choose depends on what you hope to do with your new blog and how much control you want to have.
So, let's walk through what to consider as you make your final decision.
Do You Want to Make Money?
This is probably the most crucial question to ask yourself.
If you want to start a personal blog to share your thoughts and experiences, you're completely fine going with a free blogging platform, like Medium or Blogger.
However, if you want to make money blogging, you have to be careful. Most free platforms don't let you monetize your blog.
So, you need to choose a premium blogging platform that gives you more control, like Wix, WordPress.org, or Squarespace.
Do You Already Have a Website?
If you want to add a blog to a website you already have, I highly recommend looking into your website platform's blogging capabilities.
This is the easiest way to add a blog to a website that already exists.
Alternatively, you can look into migrating your website to Wix, WordPress.org, or Squarespace. However, I recommend staying with the platform you're already using if you can.
Customization Capabilities
Paid blogging platforms give you more control and design flexibility, allowing you to build a complete website and brand around your blog.
You can customize the look and feel of nearly every aspect of your website instead of having to color inside the lines someone else drew.
If you're serious about blogging as a business, you a deeper level of control.
For complete flexibility and customization options, go with WordPress.org. And if you want something easier than WordPress, yet still flexible, Wix and Squarespace are great drag-and-drop options.
Free blogging platforms don't give you the ability to customize to that extent. You may be able to change the colors and pick between a few different layouts.
But, you can't do much aside from that.
That said, if you're interested in personal or hobby blogging, you don't need anything fancy. Free blogging platforms offer everything you need to quickly write content and share it online in just a few clicks.
Conclusion
The best blogging platform for you depends on where you want to take your blog. If you stick to the list I put together, you will be choosing from the most popular and trusted options. To recap my choices:
Wix – Best drag-and-drop blogging platformSquarespace – Best blogging platform for visual appealWordPress – Best open-source blogging platformMedium – Best traditional blogging platformBlogger – Best for personal blogs
Think about your goals, and pick a platform that speaks to where you want to go.
For personal and hobby bloggers, a free platform like Blogger or Medium is the perfect place to start.
They're easy to set up, incredibly simple, and the fastest way to start publishing online. Plus, you don't have to pay anything to share your thoughts and ideas.
However, if you want to make money and turn your blog into a business, free platforms won't cut it. The easiest premium blogging platforms are Wix and Squarespace, making them perfect for beginners.
However, if you want the ultimate level of control, go with WordPress.org hosted by Bluehost.
Read more: neilpatel.com